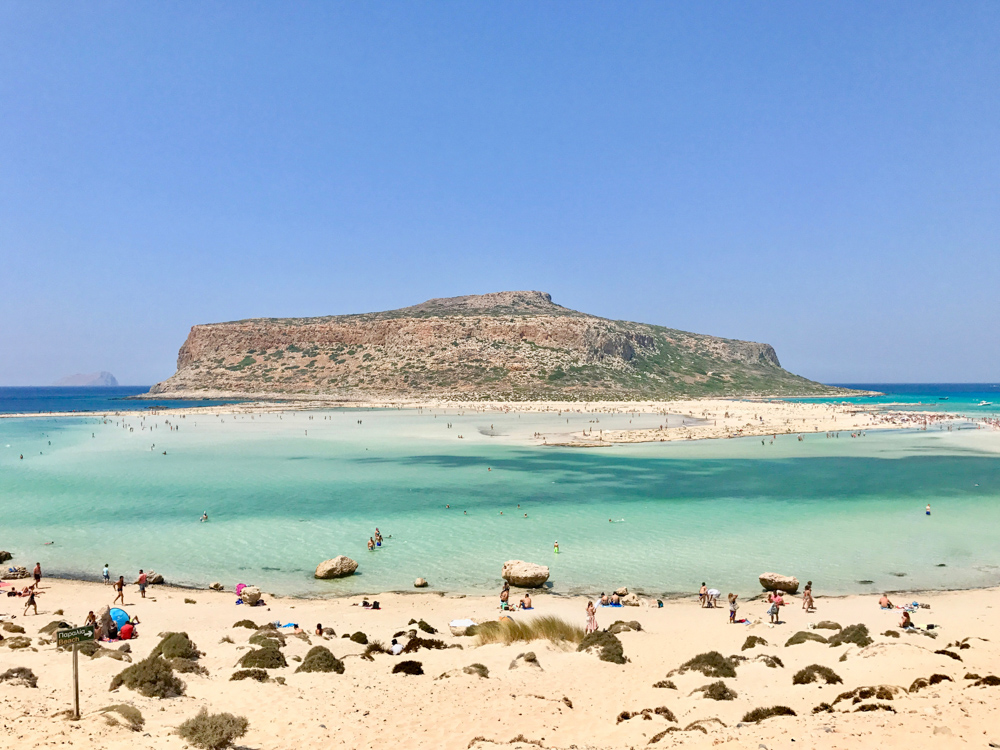 Balos lagoon beach and Gramvousa.
I remember the first time I ever visited this extraordinary place, was over a decade ago. We were touring around Crete and one of the places we visited was Balos.
I remember we travelled by car on a very rocky track and it took us quite some time to reach a parking space before we started descending the mountain on foot. It was 2km. We were exhausted and I couldn't wait to rest and enjoy only the sound of the sea! While we were descending, the view to Balos was at least breath-taking, making all this journey totally worth it! The landscape, the turquoise colour of the water, the white sand… everything was magical!! Plus, it was just us at the beach since we had arrived at 5 pm where all the tourist boats had already left.
I promised to myself next time I visit, I'll take a boat trip. The years passed (time flies so easily!), reassuring myself every time, that next year I'll visit again. 
And this happened a month ago… So the boat takes just one hour from the port of Kissamos and we remained in Balos for 2 hours. Then with the same boat, we visited Gramvousa island and we also remained for another two hours.
And you know what? I really enjoyed it! Even though it was crowded this time, the view was stunning, the water was crystal clear, the turquoise colour of the sea blew my mind and in general, it's a must see! 
Gramvousa island, or the pirate's island, is just 15 minutes with the boat and it's just as magical as Balos! I tried to visit the castle at the top of the island but I reached up only to a point since it was a very hot day and to be honest – the water was way more appealing!!!
One of my favourite days this summer! Don't miss this little heaven on earth!
Until next time ❤