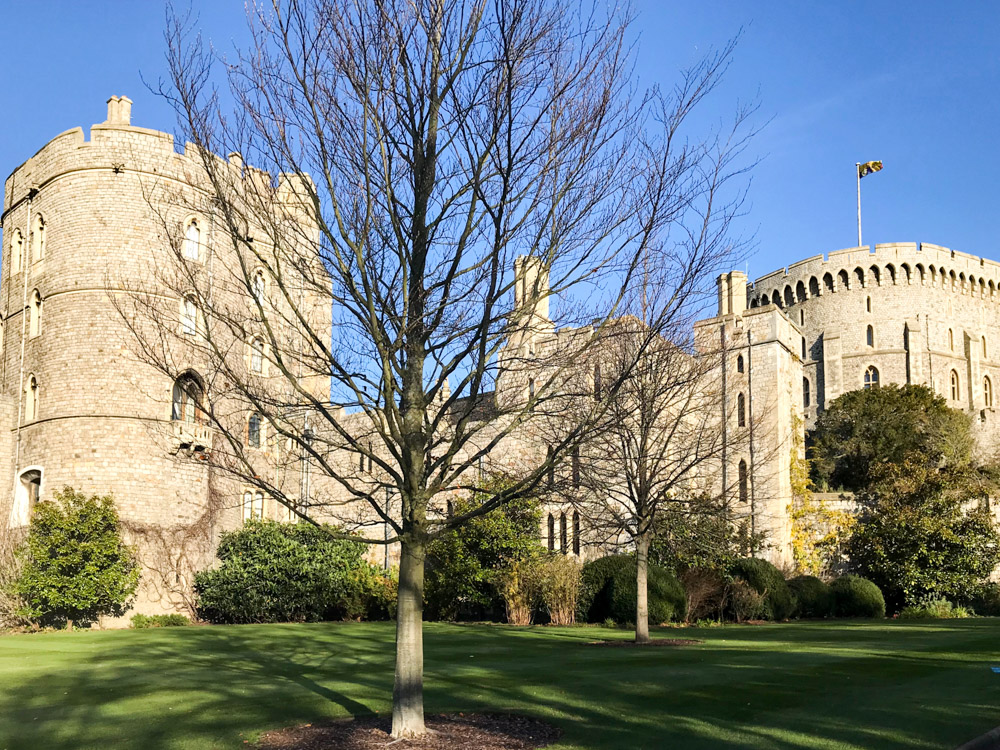 Windsor Castle.
Before visiting Windsor Castle, I had almost forgotten the joy of day trip gateways! It was my friend's Iphi idea to spend a day in one of the Monarch's principal residences.
We met at Waterloo station early in the morning and we travelled by train to Windsor and Eton Riverside Station. It took us around an hour to get there. I remember from the moment we arrived that it was freezing so much and my whole body was shaking. I really regretted the fact that I didn't have gloves with me and the first pictures I took where quite painful.
So, Windsor Castle is the oldest and largest occupied castle in the world, counting almost 950 years. The Queen uses the castle as her official residence where she also undertakes several formal duties as well such as State Visits from overseas monarchs and presidents etc. The Castle is actually a kind of a small village where 150 people live and work there. There is also St. George's Chapel that is well-known for many royal weddings and is also a resting place for British monarchs.
On the inside, it is full of astonishing rooms that reflect different eras and architectural tastes, starting from the permanent collection of Queen Mary's Dollhouse, the baroque State Apartments that were created for Charles II and Catherine of Braganza around 1675, to the Semi-State Apartments which are used by the Queen for formal and informal entertaining.
It took us a few hours to explore it and we were given complimentary audio guides which helped us examine it with more freedom. Unfortunately, on the inside, pictures were not allowed but I took just a few.
Tip: if you buy tickets directly from the castle (Royal Collection Trust), don't forget before you leave the site to sign and print your name on the spaces provided to the ticket and then handle it to a member of the staff to stamp and validate it. This way you'll have 1-Year Pass.
After the castle, we visited the city town. The cold was really getting worse and we started getting hungry. After a quick search on the internet, we ate at Meimo, a Moroccan Restaurant which has really good reviews. And indeed, the food was really tasteful. We got to meet the owners of this independent family restaurant and they were very lovely people. Try the Chicken Tagine and don't forget to ask for a flat bread. 
For coffee and dessert, we chose Madame Posh. I was impressed by the Red Velvet Latte I ordered along with the other desserts. Really nice for a change. It wasn't sweet at all, it was only red food colouring, but again, it was a really nice idea!
Until next time ♥