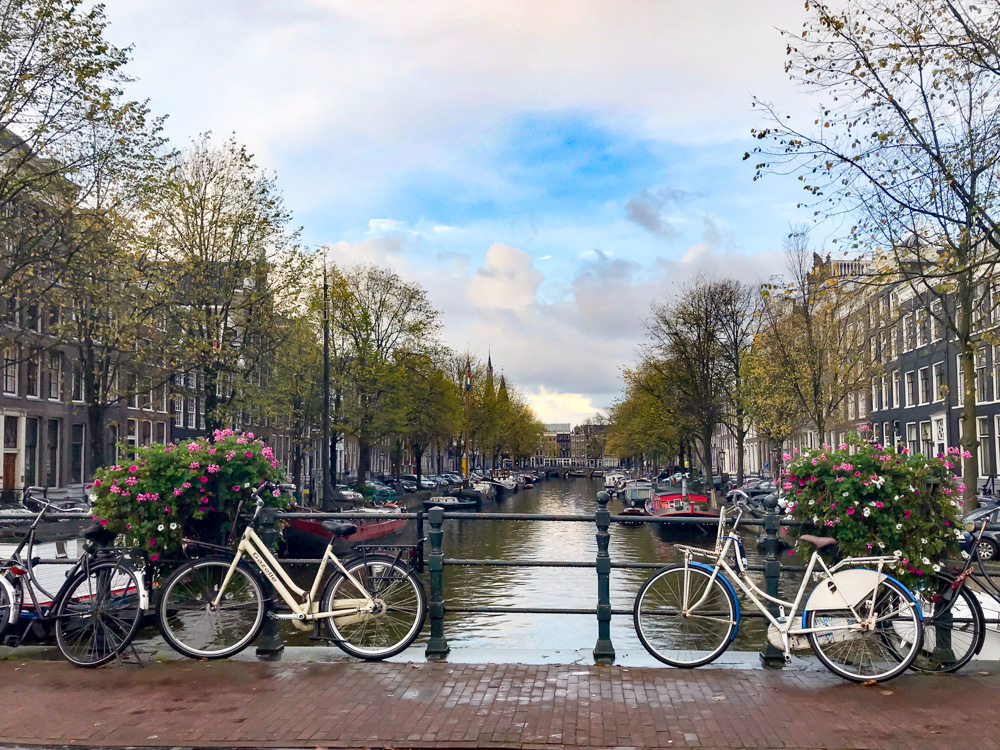 Weekend in Amsterdam Day 2.
(continues from Day 1).
So after having our breakfast in the hotel, we headed to Museumkwartier (Museum Quarter). This time we ordered Uber and after we exchanged our vouchers, we visited two of the most famous museums in Amsterdam. We had booked tickets in advance for the Van Gogh museum, Rijksmuseum and for a canal cruise in order to "skip the line".
Amsterdam's famous museums can be overcrowded, so you might get "stuck" in a long line if you don't book online. Durning morning (around 9:00) I didn't see many people waiting in line to be honest, (I saw later an endless line for the Ann Frank House which is on my list next time I visit), but anyway, I'm glad we booked in advance as I prefer not to worry about these things. 


Another thing you should have in mind is that inside these museums, they don't allow you to carry backpacks, -just handbags– so you will have to leave rucksacks, umbrellas and larger backpacks (but not luggage!) in the cloakroom. There was a huge line for dropping and collecting, so it's best to carry just a handbag – otherwise it can be a nightmare. I don't want to think how it would be if we waited in line to enter the museum and then we had to wait in line again for dropping and collecting. So I am saying ti again: if you want to visit, book online  in advance and carry just a handbag!
Van Gogh Museum houses the largest collection of paintings by Vincent Van Gogh and I was amazed by how it indulges the visitor with pieces of information of his life from his early life to his really sad ending. Don't expect to see all of his famous paintings here though as many of them are in Musée d'Orsay in Paris, like Starry Over the Rhône, The Church at Auvers, Portrait of Dr. Gachet etc .
Some of his famous paintings in this museum are: Self-Portrait (1888), Almond Blossoms, Sunflowers, The Yellow House, Bedroom in Arles (the first version 1988) etc. 



Rijksmuseum is the National Museum of the Netherlands and it's just across the Van Gogh Museum. This neo-gothic building hosts a vast collection of paintings from the middle ages to the 20th century.







Just outside Rijksmuseum, there is the famous iconic "i amsterdam" sign where it was full of people taking photos in every and each letter of it. I didn't miss the change to take some pictures but I should do this earlier in the day…




After the museums visit, we headed to the canal cruise. It lasted about 60 minutes and we travelled along several picturesque canals of the city. We were lucky it started raining heavily only by the time we were inside the boat cruise. And it was the only time we experienced heavy rain during our trip.


We bought several memorabilia such as miniature clogs, tulips, cheese (three different types), cups, magnets and stroopwafles! They offered stroopwafles in many coffee houses along with our coffee and if you haven't tried them before, you'd believe it's just an average cookie. They are syrup wafles, made from two thin layers of baked dough with a caramel-like filling in the middle! There's nothing else to say: You must try them!









The weather was a bit of everything: sunny and warm, to cloudy and cold to rainy and then again cloudy and sunny and warm …and cloudy… and all these in two days. 
But Amsterdam was beautiful in all weather conditions 💜



Until next time ♥