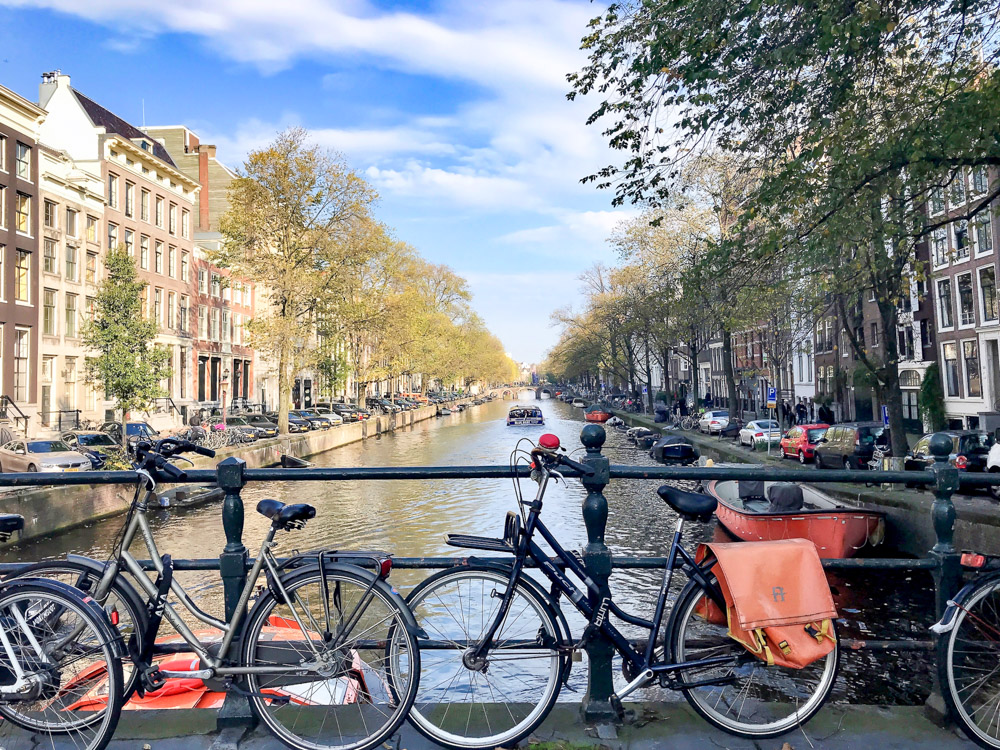 Weekend in Amsterdam Day 1.
I was really excited about our upcoming trip to Amsterdam! Since we had only one weekend to explore the city, I tried to organise our trip as much as I could. I knew that we couldn't see everything so we had to be selective. At the same time, our trip had to be fun and stressless. So, first things first:
A week before our arrival, we booked tickets in advance for Van Gogh Museum, Rijksmuseum and for a canal tour. This way we could "skip the line" -as it is said- and not waste any time in queues. And I strongly recommend it!  
We decided to dedicate our Saturday in strolling around the city and its canals and our Sunday morning in the museums and in the canal tour. The only thing that was unfortunately off my list was the Ann Frank House which I will surely visit the next time!
So, having done my research on the internet about where and what to do, I already had an idea in my mind of how our trip is going to be.
Upon our arrival at Schiphol International Airport (8:00 am), we took the Direct Rail Link to get to the city centre (Amsterdam central railway station). The trains leave every 10 minutes and about half an hour later, we were in Amsterdam city!
Our hotel (Hotel Citadel) was in a really central spot which was really convenient and it saved us so much time exploring the city!
So, our first stop for breakfast, was at The Pancake Bakery to taste the real Dutch pancake experience (Pannekoek). We ordered a "Pancake breakfast" a plain pancake served with maple syrup and bacon along with orange juice and a coffee, and a sweet pancake with banana, chocolate sauce and whipped cream. The difference between American pancakes and Dutch pancakes is that Pannekoeken are larger in diameter and thinner than the American pancakes, but not as thin as crêpes. No wonder that this little place is known for the best pancakes in town! The service was quick, helpful and very attentive, the restaurant was (always) full of people (tourists and locals) so maybe I should suggest making a reservation before you visit!






I instantly fell in love with the area around The Pancake Bakery! Even though Amsterdam has so many canals, the four main canals (Singel, Herengracht, Prinsengracht and Keizersgracht) begin their journey from this area, the Canal-Belt, and "hug"  the city of Amsterdam by creating a semi-circle. They are also included in the list of World Heritage Sites by UNESCO and I assure you it's beautiful ♥
A few minutes away, there is another beautiful area, the "Nine Streets". In this area, there are many boutiques, art galleries, fashion shops, coffee houses, restaurants etc whilst the architecture of the canal houses is just breath-taking!









So, after our strolling around this unique part of Amsterdam we headed through the city centre. The distances between a place to another are so small that walking was really pleasant (besides the fact that I was taking pictures every 2 minutes)!
We headed through De Wallen, the medieval city centre of Amsterdam which is crossed by narrow streets and canals. We visited the Dam Square where the famous Royal Palace of Amsterdam (Paleis op de Dam), the late Gothic parish New Church (Nieuwe Kerk), the Bijenkorf (high-end department) and the National Monument (a white stone pillar) are located. All the streets around this area are commercial and really beautiful. There were also shops selling all kinds of smoking paraphernalia such as pipes, bongs, vaporisers, papers and rolling machines, etc. In one of the shopping streets (Damstraat), I found some enormous clogs and I tried them ♥
For lunch, we visited Rembrandtplein, a square which according to many people is one of the busiest squares with many restaurants (and a great nightlife).






After an afternoon nap (that we so needed) we visited the famous Red Light District and the area around. Technically in Amsterdam, there are three Red Light Districts but when people refer to it, they usually mean the one that is located in De Wallen area which is the historic centre of Amsterdam. It is prohibited to take pictures of the cabin's red-lit windows that the prostitutes are, but I managed to take a general picture of one of the streets. We had coffee and desert in Ivy & Bros, a sweet coffee house across the canal. The service and the atmosphere was very friendly as well as the cake selection (especially the cheesecake!).




During the evening we decided to go for a beer after a long walk around the beautiful canals of Nine Streets and Jordaan area. Wester, is a small cosy bar with jazz music and really friendly atmosphere.
For dinner, we went to Van Speyk. I really cannot recommend this outstanding restaurant highly enough! Not only all dishes were delicious and beautifully served, but the staff was really attentive and friendly! The atmosphere was really elegant and it is among the best restaurants in the city.
We ordered Quinoa Salad (salad with quinoa, avocado, pecan nuts and a light blue cheese dressing), Escargots (from the oven, with a butter of garlic and fine herbs), Ossenhaas (grilled fillet steak from Black Angus beef with pepper sauce, potato gratin and seasonal vegetables) and Pinot Noir wine. As for desserts, we ordered Warme Wafel (warm Dutch waffle with flambeed cherries and vanilla ice crame) and Dessert Van De Chef. Oh, my god, everything was so tasteful!






During the night, the artificial lights turn on, creating a magical atmosphere for a really romantic walk around the canals.




to be continued ♥