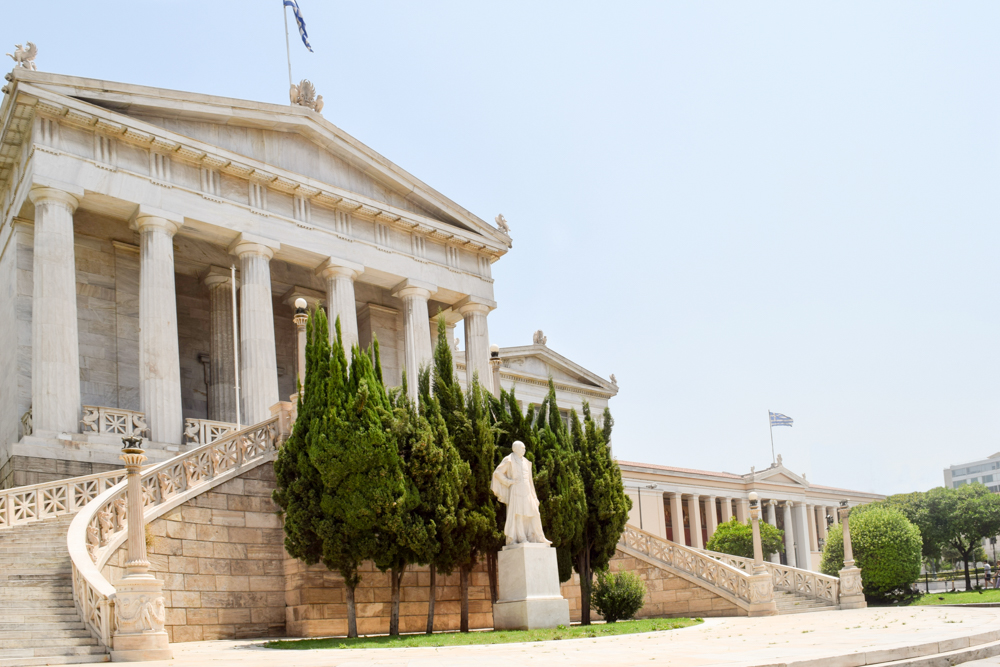 The Athenian Trilogy.
What I love about blogging is that I can be a tourist in my own city. Not only do I have the excuse to  see the sightseeing attractions as a voyager in my free time but I also learn new things.
The last time I was in the city center with my camera because I wanted to visit and take pictures of the so-called "The Athenian Trilogy" from the 19th Century.
For the first time in my life, I dedicated time to see in more depth the three elegant buildings that are standing proud in a busy and yet so beautiful Athenian street.
The Athenian Trilogy consists of the following three neoclassical buildings:
The National Library of Greece, the University of Athens and the Academy of Athens.
The Danish Architect Christian Hansen designed the University of Athens. The floor plan shapes up a double T with two symmetrical courtyards on each side while the façade is strictly symmetrical. The building now serves as a ceremony hall and rectory.
The Danish Architect Theophil von Hansen (Christian's brother) designed the Academy of Athens and the National Library of Greece.
The Greek neo-classical sculptor Leonidas Drosis sculpted the main multi-figure pediment sculpture, on the theme of the birth of Athena, the statues of Socrates and Plato along with the figures of Athena and Apollo.
Finally yet importantly, is the building that houses the National Library of Athens. The monumental double curved staircase in the Viennese Style, leads to the main reading room. The inside of the Library is also magnificent but unfortunately, photographs were not allowed. Anyhow, I took many photos of the beautiful view at the top of the staircases throughout the other two buildings that form this Athenian landmark.
The Athenian Trilogy is easily accessible on foot from Syntagma Square, or by the underground. (Underground Station: Panepistimiou).
Until next time ♥
The Athenian Trilogy: Panepistimou Street, Athens