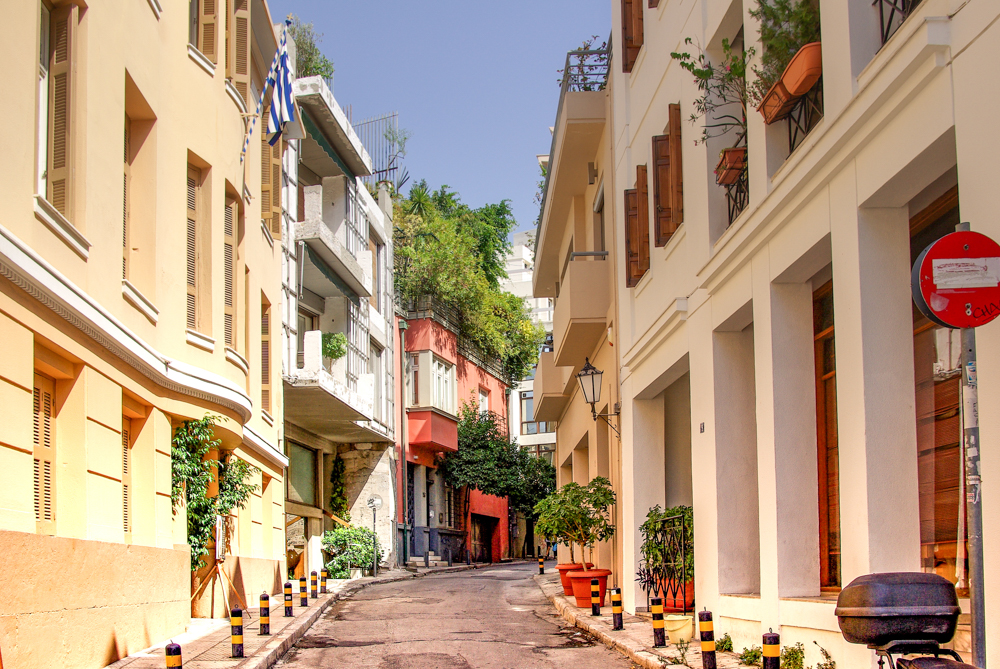 Strolling around Athens.
"How about 11:00 in the morning? Will we meet at the Monastiraki station? Great! We will also have a coffee in Plaka! See you there!"
And so we did… Me and my friend Natasha, met at the Monastiraki station at 11:00 in the morning. Well, not exactly at 11:00 since both of us started snapping pictures from different parts of the historic center before our meeting.
It was impossible for me to walk through Kydathinaion Street and Adrianou Street and not stop for some photographs! Most of the streets of Plaka are pedestrianized with neoclassical buildings. The area is one of the oldest of the city. There are also many restaurants, cafeterias bars and souvenir shops and it resembles to a Greek island.  
When my friend and I met, we began our beautiful stroll from the Monastiraki Station. We started snapping pictures of the Adrian's library that is located right next to Monastiraki square. Then we headed towards "Aerides".
"Aerides", is the unofficial name of the "Tower of the Winds" or "Horologion" and it is an octagonal clock tower in Pentelic marble, located in the Roman Agora.
Right after the "Aerides", it starts one of my favourite narrow streets of Plaka, Lysion Street, where I have been many times for a coffee at "Yiasemi" and at "Melina".
However, this time we decided to make a stop for a coffee somewhere else for a change.
For about half an hour, we were strolling around like two tourists before we stopped for a coffee at "Glykis" a romantic café at Angelikis Chatzimichali Street.
We walked through Tripodon Steet and we visited the Monument of Lyssicrates at Lyssicratous square. I believe that Lyssicratous square is strategically located close to Plaka, Anafiotika, Dionysiou Areopagitou street, Acropolis, everything!
Our next stop after coffee was at the Monastiraki Flea Market and at the souvenir shops on Pandrosou Street, Hephestou Street and Avissynias square.  
Our last stop was at the Ancient Agora. The main entrance is from the Adrianou Street and the entrance fee is 8 euros for adults.
Since we didn't have much time, we only visited the Stoa of Attalos (159 – 138 B.C.) and the Attalos museum. The Stoa served for many centuries as the main commercial center for the Athenians and nowadays it is reconstructed and well maintained.  
I came back home energized and refreshed, feeling as if I was on vacation! It's nice to play a tourist!
So next time you have a little time for yourself, grab your camera and visit the most beautiful places of your city and re-explore them as a real tourist!
Some last suggestions about Plaka:
Visit the oldest distillery in Athens, famous liquor store Brettos at Kydathinaion Street. It is amazing and I love all the coloured bottles that line up to the ceiling.
If you are in Athens during the summer, then you should visit the outdoor Cine Paris and enjoy a movie in the open-air.
Eat Greek cuisine at Vyzantino Taverna and at Platanos Taverna.
Until next time! ♥