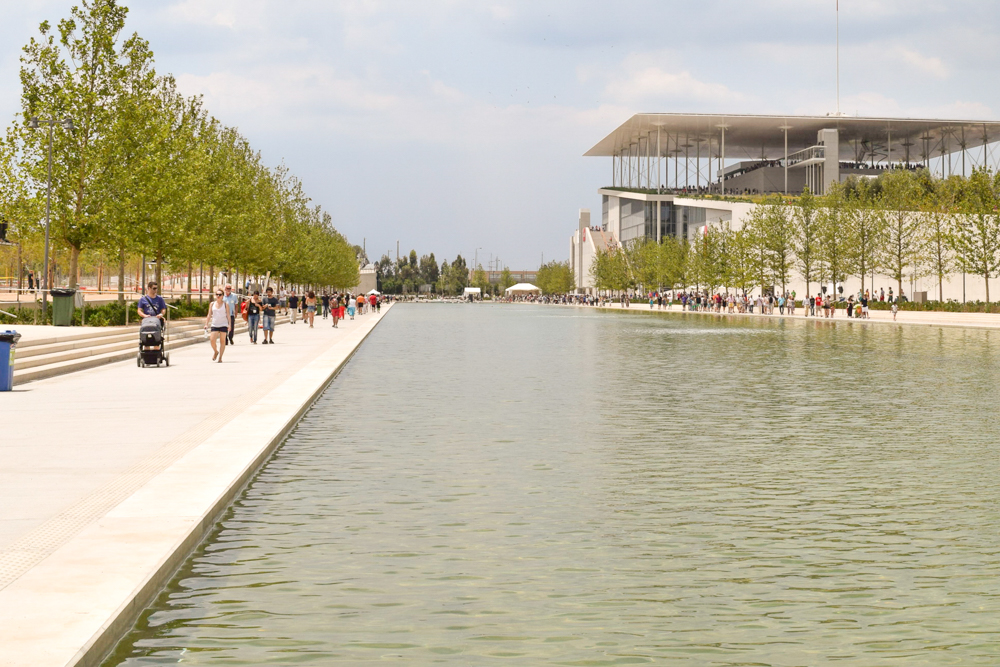 Stavros Niarchos Foundation Cultural Center.
I was waiting for the past weekend many years now as the Stavros Niarchos Foundation Cultural Center (SNFCC) finally opened to the public for a four-day free admission event of cultural performances.
The Architect that designed the SNFCC, is the Pritzker Prize winner Renzo Piano. He is mostly known worldwide because he was one of the Architects that designed the Centre Georges Pompidou in Paris. Amongst his many notable projects, are also the New York Times Building and the Shard in London.
The multifunctional and environmentally sustainable complex was built to house the new facilities of the National Library of Greece, the National Opera House and a 210,000 square meters  Mediterranean Garden that includes pines, olive trees and fragrant herbs and flowers such as oregano, thyme, lavender, etc.
Upon my arrival in this beautiful, vital green space, I was awed by the magnificent project! Even though during the festival the whole place was crowded, I enjoyed snapping photos as the scenery was –literally by any corner- picturesque.
At the top of the artificial slope, the panoramic view is breathtaking, since it faces directly the Acropolis, the Lycabettus Hill, the sea and the entire city.
The bioclimatic roof of 10,000 square meters-, coats the top of the Opera and includes 5,600 photovoltaic elements that partly cover the electricity needs of the Center. The SNFCC aims to earn the platinum "green" building LEED certification, the first for a project of this scale, in Europe. 
I believe that this project will completely change the life of the locals not only because it will host the new Library and the new Opera House of Greece, but also because it is a prime example of bioclimatic and environmental design combining technical excellence with divine architecture. 
Until next time ♥