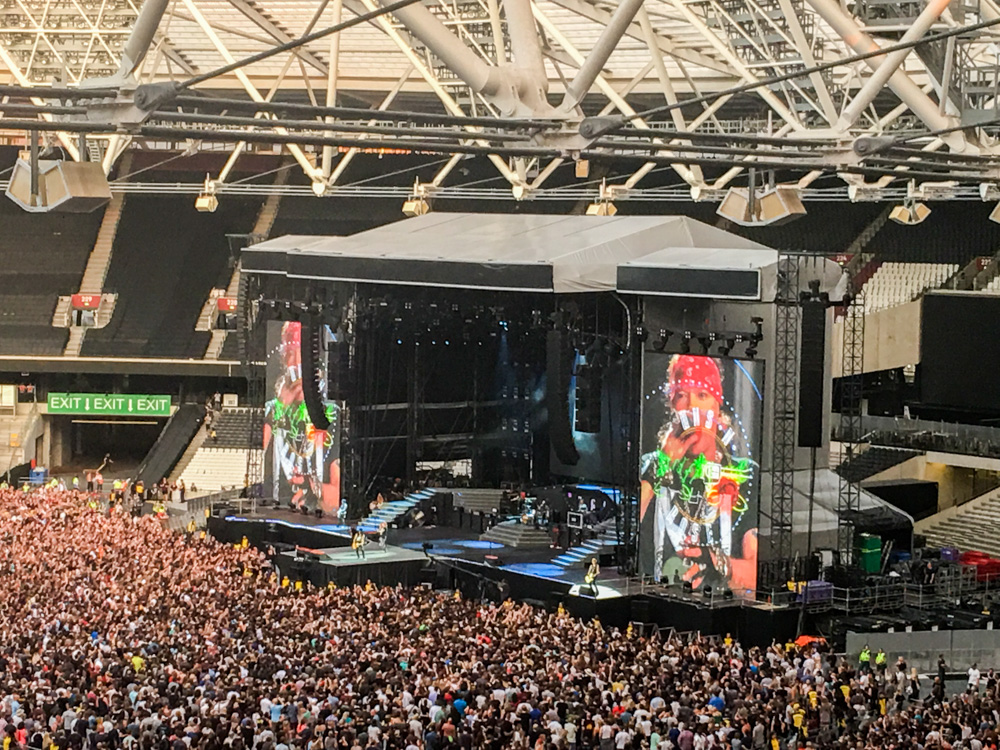 Guns n' Roses Not in this lifetime Tour.
Anyone who knows me well, knows that I was waiting to attend this concert for decades! Back in high school, I was a big fan of Guns n' Roses. I had all of their albums, videotapes and I knew all their songs by heart. I had GnR t-shirts, books and my room was full of posters.
I used to watch MTV where there were days dedicated to bands and Guns n' Roses were quite often on, with interviews, video clips etc. My first attempt with English language came through their songs trying to translate them. When they came to Athens for a live concert, my friends and I were too young to be able to attend it, and I believed that I would never see them live…
So when I booked tickets for their upcoming live show in London, I just couldn't wait for this dream to come true!
That day finally arrived and it was 17th June 2017. We reached the Olympic Park at 17:00 and the first thing I did was buy a GnR t-shirt. Just then I received a message that Guns n' Roses will be on stage at 19:45. Oh my god! In just a couple of hours my childhood dream would come true!
When we entered the stadium, we ordered some drinks and nachos -the queues were literally endless everywhere! For t-shirts, for food, drinks… people were of all kind of ages, from little kids to 70 years old.
It felt like forever until they came on stage. The anticipation was too much! The intro was Looney Tunes and before I realised it, they started playing "It's so easy".
I got really emotional and felt like the music took me back to my youth. I was singing and dancing to all the songs with the same passion as I once used to.
It was 3 epic hours, with Guns n' Roses, and an outstanding performance from the group. I really couldn't ask for more, except maybe next time I will be on the front line for sure. 😍
The setlist:
1. It's So Easy 2. Mr. Brownstone 3. Chinese Democracy 4. Welcome to the Jungle 5. Double Talkin' Jive 6. Better 7. Estranged 8. Live and Let Die (Wings cover) 9. Rocket Queen 10. You Could Be Mine 11. New Rose (The Damned cover) (with "You Can't Put Your Arms) 12. This I Love 13. Civil War (with "Voodoo Child" outro) 14. Yesterdays (preceded by Happy Birthday to Queen Elizabeth II) 15. Coma (with band introductions) 16. Slash Guitar Solo  17. Speak Softly Love (Love Theme From The Godfather) (Nino Rota cover) 18. Sweet Child O' Mine 19. Out Ta Get Me 20. Wish You Were Here (Pink Floyd cover) (Slash & Richard Fortus guitar duet) 21. November Rain (with "Layla" piano exit intro) 22. Black Hole Sun (Soundgarden cover) 23. Knockin' on Heaven's Door (Bob Dylan cover) (with "Only Women Bleed" intro) 24. Nightrain 25. Don't Cry (with The Allman Brothers Band's "Melissa" intro) 26. Whole Lotta Rosie (AC/DC cover) 27. Paradise City