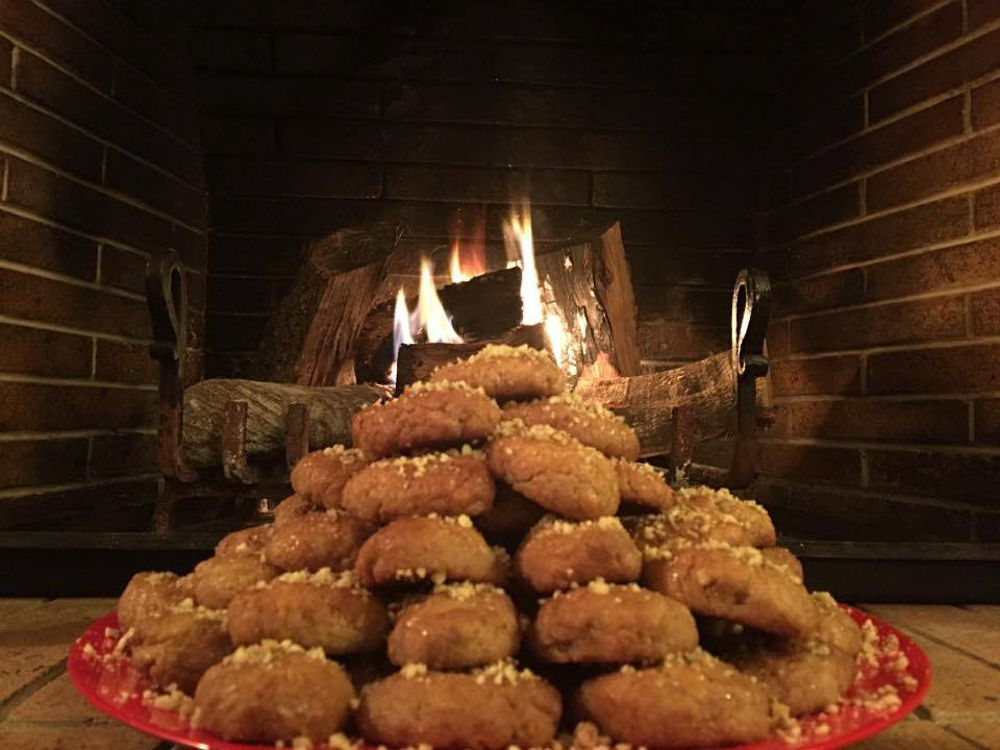 Greek Christmas Treats Melomakarona.
In this blog post, I am going to share with you the recipe for Greek Christmas cookie treats, Melomakarona.
There are so many recipes if you search for Melomakarona, but I believe the one I am having is one of the best recipes! I found the recipe from the talented (and very handsome) chef Akis Petretzikis, (you may find his website here) and they are so yummy!!!  
For this recipe, I gathered all the ingredients from the beginning, measured everything and placed them in a separate bowl. Honestly, this was the first time I did this, since I usually measure each ingredient by the time needed. It took me about 15 minutes to measure everything but it was worth it!
So, let's begin!
The ingredients you are going to need:
For the syrup:
500 ml water

800 gr granulated sugar

150 gr honey

3 cinnamon sticks

3 whole cloves

1 orange, cut in half

1st mixture:
400 ml orange juice

400 ml sunflower oil

180 ml olive oil

50 gr caster sugar

½ teaspoon ground cloves

2-3 teaspoons ground cinnamon

¼ teaspoon ground nutmeg

1 teaspoon baking soda

Grated zest of 2 oranges
2nd mixture:
1 kilo all-purpose flour

200 gr fine semolina


I started by making the syrup.
I boiled in a pan all the syrup ingredients -except honey- until sugar melted. Then I removed from the heat, I added the honey, mixed it and left it to completely cool. You can do this step from the previous day if you want.





For the cookie dough:
Preheat the oven to 190 °C (370°F) in Fan.
Mix all the ingredients of the first mixture in a bowl and in another bowl; mix all the ingredients of the second mixture.
Add the second mixture to the first mixture and combine with hands only and just for a very short time (10 seconds max)





Mold the cookie dough in every shape you want (each one has to be more or less 25-30 gr). The traditional shape is oval.

Bake for about 20-25 minutes until they are crunchy and the colour is golden brown.

Now you have to be fast. You need to soak the hot cookies into the cold syrup for about 10 seconds.


You leave them to drain on a wire rack
Decorate with chopped walnuts and if you want more honey


They are delicious and I suggest you should try them as well!! ♥