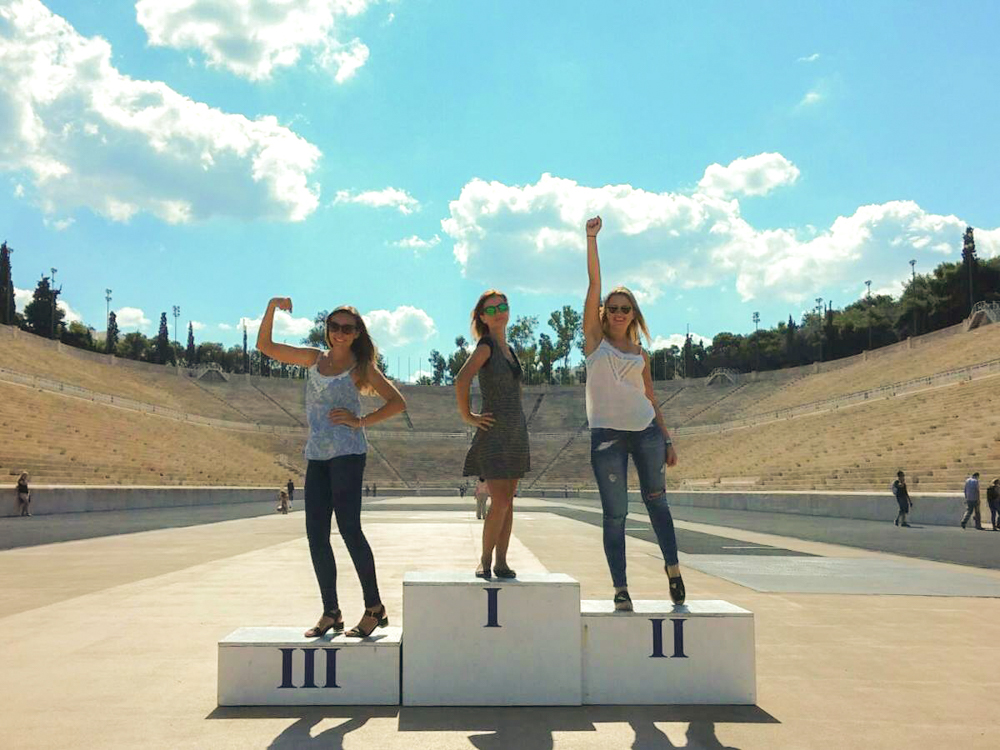 From Athens with love.
In this blog post, I want to share with you, a beautiful memory. My meeting with two new friends of mine from Croatia, Andrea and Maja.
During summer, Andrea, reached me through my blog and asked me some information regarding her upcoming trip to Athens with Maja. I was more than happy to help and when they came to Athens, we arranged to meet up, but unfortunately  we could only meet the last day of their journey in Athens due to my work schedule. 
So on  25th September, we met at the entrance of the National Garden in Athens. Andrea, Maja and myself and although we hadn't met face-to-face before, I was feeling like we know each other for a long time.
We walked through the National Garden of Athens and then we headed towards the Panathenaic Stadium, also known as Kallimarmaro (330 BC). (Kallimarmaro is one of the most important attractions of Athens mainly for two reasons: It hosted the opening and closing Olympic ceremonies of the first modern Olympic Games in 1986, it is the only stadium in the world that is built entirely of marble).
After Kallimarmaro, we passed in front of the Presidential Mansion, which was previously the Royal Palace, and the Maximos Mansion that houses the offices of the Head of the Greek Government at Herodou Attikou Street.
The weather was nice and due to the race cure in Athens, there were no cars at all, so before our coffee break, we also visited The Athenian Trilogy.
Our coffee break was at the all-day cocktail bar Noel. It took us 10 minutes walking from the Athenian Trilogy towards Monastiraki and I believe it is worth visiting due to its exceptional aesthetics and atmosphere. 
Then we continued to Monastiraki where we had souvlaki at Thanasis and then we ate frozen yogurt at Yogolicious. 
Then we took the metro to end up at the Acropolis underground station where we visited the temple of Olympian Zeus (132 AD, dedicated to Zeus, it was the largest temple in Greece) and the Theatre of Dionysus. (You may read here about Theatre of Dionysus). 
Well, at that point, a wonderful day had come to an end! The girls had to go to the airport as they were flying back home later that day.
I am happy I met you girls and I hope you enjoyed this day as much as I did! ♥
Take care and I hope to see you again!
PS All photos were taken by Andrea and Maja and I did the post-processing.