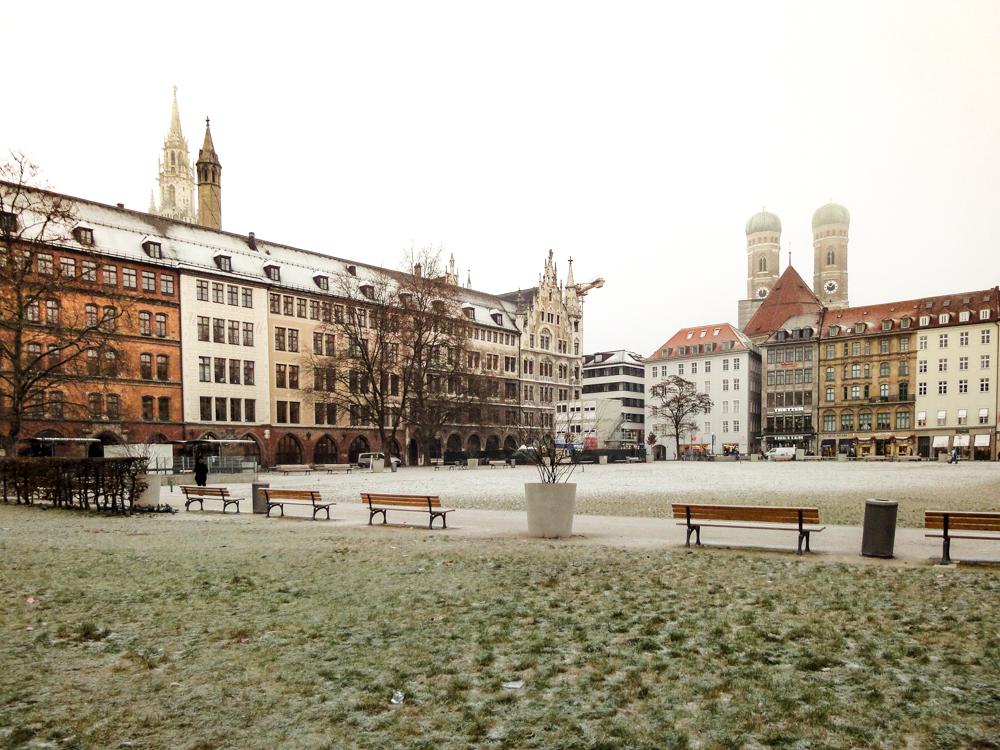 Eight hours in Munich. 
On my way to London, I had to make a stop to Munich airport for 8 hours. Since I had plenty of time, I decided to visit the city centre and discover Munich for the very first time!
My flight to Munich was departing from Athens airport at 6:00 in the morning, which means I didn't get much sleep that night. I arrived at the Munich airport, at 7:30 local time (2 and a half hours flight). I was informed that the airport was connected to the city centre with the urban train and it would take me 50 minutes. Still, I had time! So, I bought from the ticket machines, an airport-city-day-ticket for the price of 12,80 euro, which allowed me to use all means of transport until 6 am the following day:   S-Bahn (urban trains), U-Bahn (underground), buses and trams.  I didn't also need to validate it. The ticket was valid immediately upon purchase. So I took the S8 line (but you can also take the S1 line) to the city center which is Marienplatz. On my way to the city it was snowing and the temperature outside was -7 degrees. But I was still very excited because I had a chance to see a city I hadn't been before! And not only this. I had to experience Munich! I already knew that this city was beautiful.
So when I arrived at Marienplatz, the first thing I saw was the Neues Rathaus (The New Town Hall). I was impressed by this enormous Gothic Revival building that hosts the city government. The weather was freezing and it was already 9:30 in the morning. I decided that no matter the cold weather I should take a walk in the surroundings. The old town of Munich was already in my heart and I was admiring the architecture of the buildings, the beautiful squares, the bikers that were all around and the police horse riders. I almost felt I was in a fairy tale!
As time went by, the streets got busier with people. I strolled around this dreamy city centre and since my time was limited I couldn't visit all the places I wanted, but I walked towards Englischer Garten (English Gardens) which, according to Wikipedia, is one of Europe's largest urban public parks and larger than New York's Central Park.
Right next to Englischer Garten, you will find Hofgarten (Court Garden), a wonderful Italian style Renaissance Garden with a temple and a fountain in the centre of it. The temple is dedicated to the goddess Diana. On the east side of the Hofgarten, you will see Bayerische Staatskanzlei (Bavarian State Chancellery) which is serving as the executive office of the Minister-President as head of government.
On the south side of the Hofgarten, you will find Münchner Residenz (Munich Residence) which is the former royal palace of the Bavarian monarchs.
I used the underground station from Odeonsplatz to reach Marienplatz once again and this time I made my way to Karlsplatz. I walked towards the picturesque pedestrian streets Neuhauser and Kaufinger Straße which is the busiest shopping area of Munich.
Karlsplatz is right after Karlstor (three gothic town gates, which define the limits of the city). In Karlsplatz, there was a big wooden construction (I believe it was because of the Christmas period since it looked a temporary construction) with lots of shops serving street food. I usually don't eat red meat, but when it comes to a trip I make an exception. So I tried the traditional German sausage served with sauerkraut. To be honest, I am not the right person who could rate this dish but I know that to most people this must be delicious.  It cost 8.50 euro and when I returned the plate (it was self-service), they returned to me 1 euro, which was the deposit for the plate as they said.
At this point, my journey to Munich had come to an end as it was time to return to the airport. My thoughts about Munich? I loved it! I loved everything about this city and I am hoping to visit again soon so that I can visit many more places!
Just so you know, If you make a stop at Munich airport and have some time, it's worthwhile to visit the city centre! Just follow my tips and walk as much as you can! It's the only way you can see a new place! ♥
Until next time!