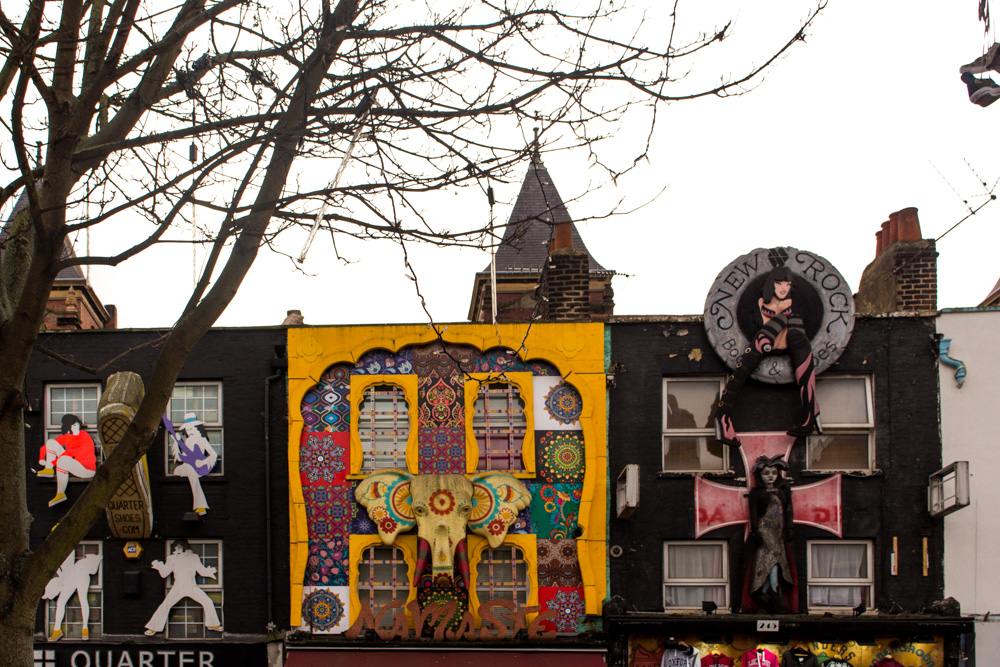 Camden Town Markets.
Camden Town is all about markets, music venues and canals. It's the place where you can find alternative fashion, eccentric characters, street food from all over the world, creative sellers, live music every day and much more.
The last time I was there, I've been to the markets of Camden Town but many blog posts will come in the future about the music venues, the pubs, the canal etc.
I tried to snap some pictures but it was very difficult as people were passing by all the time. Camden Town can be extremely crowded because of its popularity and especially during weekends.
It can be easily reached from Camden Town tube station. However, be aware that on Sundays it's only exit from 1:00pm-5:00pm. Therefore, you can use the bus (there are many buses passing from Camden Town) or the closest tube stations (Mornington Crescent, Kentish Town and Chalk Farm tube stations are quite close on foot as well).
Camden Town is full of eccentric and vintage shops. Many shops on Camden High Street have huge sculptures of shoes, dragons, fairies etc. as decorations in front of their stores. The first market you will reach is Inverness Street Market, which is a street market that is full of fruit stands and souvenirs. Just opposite the street, there is the outdoor Buck Street Market. Its big green sign with yellow letters reads "Camden Market" and it sells clothing.
I went towards Camden Lock Market, which is exactly after the Regent's Canal (also known as Camden Lock). There, you can find shops and lots of stalls that sell mostly crafts and clothing. Inside Camden Market, there is also KERB Market, a street food scene in 34 stalls from all around the world.
I also visited the Stables Market, an indoor market inside the Camden Lock Market that sells mostly antiques, alternative fashion, handcrafted, second-hand items and household goods.
I tried the Chicken Roll from "Kolkati" (Indian Kati Rolls) stall. The roll was stuffed with masala chicken, coconut, coriander, yoghurt, tamarind, date chutney, fresh garnish, pickled onions and a squeeze of lime, in an egg coated paratha bread. It was a bit more spicy than I could handle, but it was very tasty!
Then, I had a latte and some miniature cupcakes at "Marley's Cupcakes" which were delicious! I tried three flavours: Red Velvet, Lemon Raspberry Cheesecake and Coconut Lime. Oh, my God! They were so yummy!
Overall Camden Town is worth taking a visit as there are so many things to do and I cannot cover them in one blog post. Even though I am not that into markets, I enjoyed the KERB Market, that is the international street food stalls.
One of the things that I have promised to myself to experience during the summer, is a canal boat trip from Camden Lock to Little Venice (Which is my all-time favourite area in London and I will soon write about it).
Until next time ♥