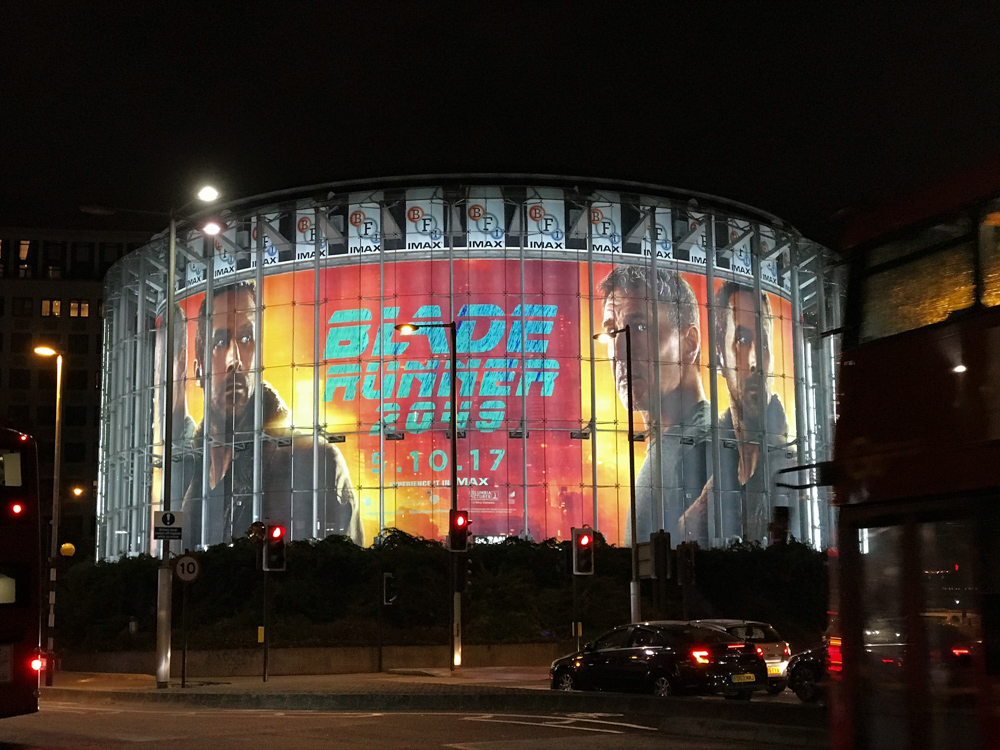 BFI IMAX London.
It's been years I wanted to visit BFI IMAX in London and finally that moment arrived. I just couldn't believe that the IMAX would be so close to my house. We literally walked to reach it. 
Now first of all, the entrance of the cinema might be confusing as it is situated in the centre of a roundabout junction and there is no pathways over the road. So, in order to access the building, we headed down a underground tunnel just across the street and we finally arrived to the ground floor of this cylindrical glass building. 
Luckily, we had time to see the amazing Prop Store Auction, the UK's biggest auction of entertainment memorabilia with over 600 props, costumes and rare production material from famous films such as Back to the Future, Batman, Pulp Fiction, The Shining, Superman, Star Wars, Indiana Jones and the Last Crusade, Terminator, Top Gun etc. 
The beauty about this particular theatre, is that it has only one screen which is 6 times larger than a normal theatre screen (20 meters high and 26 meters wide).
Since the cinema is very steep, all seats feel close to the screen and personally speaking it also feels like you are watching a 3d movie (even if it's not). 
Due to the lack of light inside the theatre and the fact that I only had my mobile with me, the pictures inside the cinema weren't good at all, so unfortunately I had to remove them.
So was it worth visiting this cinema? Yes, for the unique experience of this massive screen and sound quality.  But for the moment I will check it off from the list of the things I want to do.
By the way, we watched Kingsman: The Golden Circle. And it was surreal good.
Until next time ❤