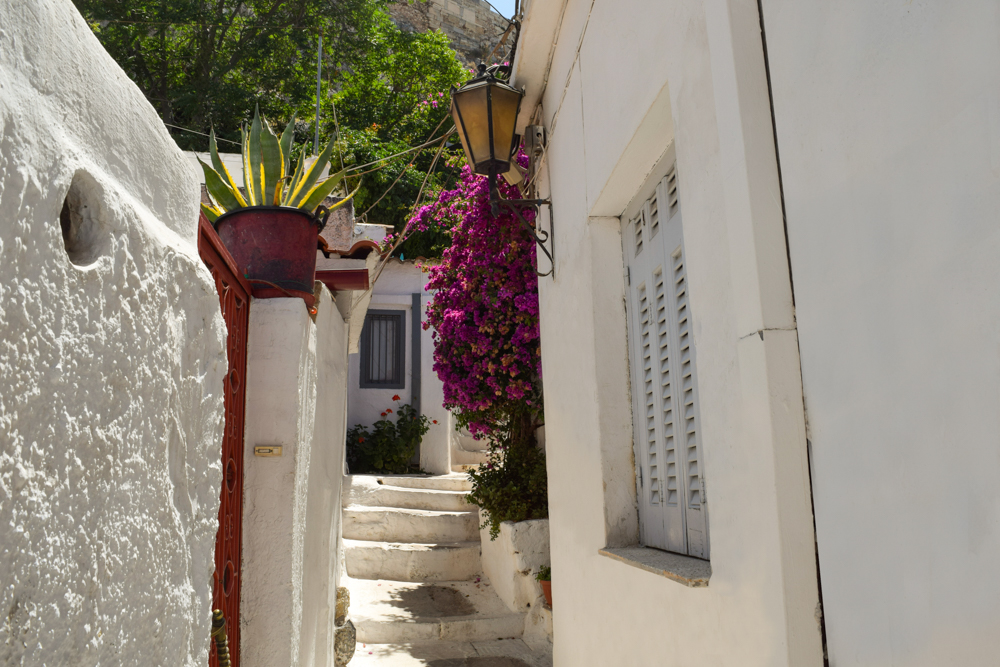 Anafiotika my love.
Let me tell you a story from the past.
During the mid of 19th Century, King Othon, wanted to transform the new capital of independent Greece, into a modern metropolis and refurbish his Palace as well.
Therefore, construction workers and skilled craftsmen from Cyclades and especially Anafi and Naxos island came to Athens as they were considered the best. When they arrived in Athens, they constructed in a very short period of time their small arbitrary houses in a typical Cycladic Architecture in bright white washed colours on the north side section of the Acropolis Hill.
And that's how this beautiful section of Plaka area, in the heart of the historical and most original part of Athens, was built.
The small, isolated neighborhood of Anafiotika creates the impression of being on a Greek island. The colours of the magenta bougainvillea that is blooming all over the walls, along with other potted plants, the rooftops and terraces, the narrow, steep streets and alleys that often lead to dead ends, makes you forget you are in the heart of the city.
According to "The sacred rock and the profane settlement: place, memory and identity under the Acropolis", most of the original village was destroyed in 1950 for archeological research. Nowadays there are only 45 houses remaining.
Whenever I visit Anafiotika for a walk, I always see tourists asking me the way to the Acropolis Hill. Of course, I am giving directions on how to reach the Acropolis (It is very close) but I am always suggesting to stroll around as well, the narrow streets of this amazing area and enjoy the many viewpoints that offers. It just takes about half an hour, but it's magnificent and it will reward you with a big smile on your face.
Don't forget to take your camera and wear comfort shoes.
This beautiful small village is definitely a not-to-miss experience, by anyone!
PS: There are no names on the streets of Anafiotika and it's not reachable by car or taxi. You can explore the whole village within 15 minutes! If you want to visit Anafiotika, there are many ways. One of them is this: You can reach by car (or on foot if you are already in the historic center) Agios Georgios Church, on Stratonos street. There is a small square there and some steps going up. Just follow these steps and ta–dah! You are in Anafiotika! Just keep strolling those narrow petit steps!
Until next time ♥